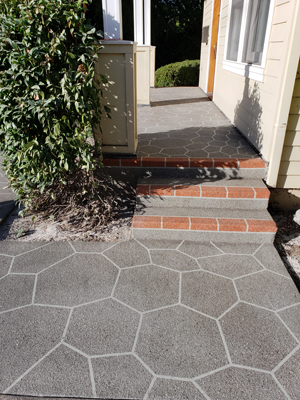 If you're looking for excellent service and a people-friendly approach, then you've come to the right place. At Oregon Concrete Resurfacing, LLC located in Willamette Valley, OR, our ultimate goal is to serve you and make your experience a pleasant one, and our team will stop at nothing to ensure that you come away more than satisfied.
Our Coating Process
For Interior floors, we prepare the floor by removing any existing flooring, paint or coatings. We then diamond grind the concrete to give it a rough profile. The grinding process is done using vacuum shrouds to reduce dust in the space. Next, the concrete is wiped down and remaining dust removed prior to the application of the coating. We ALWAYS install a moisture vapor barrier as a primer coat for the flooring. This will block any moisture that may be coming up through the slab. Next, the flooring is fluid applied to the substrate by using either rollers or gauge rakes. Depending on the type of coating, flakes may be added at this stage. Finally, after the coat has had enough time to become tack free and within 24 hours, a durable topcoat is applied. This topcoat may be clear performance resin or a highly durable urethane that will give the floor strength and durability for years and years!
For Exterior concrete, we always grind or acid etch and power wash the surface. This process not only cleans the concrete, but also opens the pores and capillaries of the concrete to allow our coating to penetrate and bond with the existing substrate. Next, a skim coat of acrylic modified and polymerized concrete is applied with a trowel. Depending on the desired design, this skim coat may be colored to later be seen as the grout lines in a brick pattern, for example. Once the skim coat is dry, a design may be taped off using a filament tape, then another coat of concrete is applied by trowel or by spraying the product from a specially designed hopper gun. The filament tape is then removed, exposing the design beneath. Another method is to grind grout lines or stone outlines with a crack chasing wheel. Many designs can be achieved by either of these methods. The overlay may also be stained with colorants to achieve even more design possibilities! Once the overlay is dry, a sealer is applied that gives the overlay a non-porous, satin finish. Foot traffic may resume the following day and the overlay can be driven on 1 week after installation. See below for answers to common questions:
How thick is the product?
Our overlays are very thin. They range from 8 mils to 1/4" Our resinous garage coatings are up to 60 mils thick.
Will the coating crack?
Our coatings are flexible and will not crack themselves. However, the coatings are mechanically bonded to the existing concrete and as such, the coating will do what the substrates does- including crack. We repair existing cracks in the concrete and have a 75% success rate that they will not reappear, but each job is different and cracking is never 100% avoidable.
How durable is the coating?
The concrete overlay material that we use is twice as strong as traditional concrete when it is fully cured. Cars and trucks will not damage our coatings when driven on them. Our high performance resinous coatings are suitable for forklift and all types of vehicular traffic.
How long do the coatings last?
This depends on their use and how they are maintained. Polymerized acrylic concrete has been used as an overlay material for concrete for nearly 40 years. Major technological advances in this industry have drastically improved the lifespan of coatings. Many overlays last over 20 years with only periodic resealing of the surface. Resinous coatings need zero maintenance under normal conditions and will last a lifetime. We will take all steps necessary to ensure that your coating is installed correctly and will last for many years!
What if I have more questions and would like an estimate?
We are happy to answer your questions via 971-301-3383 or e-mail orconcreteresurfacing@gmail.com. You may also fill out your information and we will contact you ASAP.
Seasonal Maintenance | Indoor Concrete Restoration | Outdoor Concrete Restoration